How To Turn Your Php 300 Into a Php 30,000 a Day Income Potential By Just Becoming a Dealer of a Loading Business (AutoLoad, E-Load, Call Cards, Internet and Online Gaming Cards, etc.). We Pump Up Your Loading Business to the Extreme with VMobile LoadXtreme!!!
Are you a still a
STUDENT
but already wants to help out your parents in your educational expenses, and of course, the expenses in your house?
Are you an
EMPLOYEE
who works very hard, but at the end of every month, you keep on realizing that your salary just won't be enough to support your growing family? Thus, you end up looking for extra jobs for an additional income to resolve this.
Are you presently
UNEMPLOYED
, that after your hardship in completing a 4-Year Course in College, yet, getting the right job seems like finding a needle in a haystack? And the competition is getting very stiffer, when every year, thousands and thousands are graduating.
Are you a
HOUSEWIFE
, and your beloved husband is miles away working abroad to provide your family a better future and you want to help him even if you are staying at home and taking care of your children?
Are you an
OFW
, who wants to have a business where your family here will be involved while you are away, and by the time that you come back, the business will be very stable?
Are you a
SMALL BUSINESS OWNER
(Internet Shop/Cafe, Sari-Sari Store, Carinderia/Eatery, Food Cart Owner, etc.) who wants to add income generating products?
Or, are you a
NOBODY
, who wants to be a
SOMEBODY
, who is looking for a
BUSINESS with LOW CAPITAL
(Less than Php 1,000), with
FAST RETURN OF INVESTMENT
, that you can do anywhere (even you are in abroad), with a huge market and a product that is consumable that you don't need to hardsell and most of all, that can
HELP
you as much as you can
HELP OTHERS
?

Well, Here's Can Be The Solution To Your Problem!!!

With VMOBILE LOADXTREME we can help you to reach your dreams... we will teach you how….
ALL ACCESS PREPAID.
ALL NETWORKS.
ALL DENOMINATION.
ALL IN ONE CELLPHONE.
FRANCHISE THE MOST IN DEMAND BUSINESS
IN THE PHILIPPINES TODAY!
In VMobile, we have more than 300 prepaid products (and counting)!
Why is it that LOADING BUSINESS is GOOD?
Almost all people nowadays have cellphones and what do they have in common?

LOADS!!!

So it means that they are our target market.
Don't you know that loads are easier to spend on unlike other items?
No need to sales talk, demo, testimony or explain things, when you say

LOAD!!!

Everyone knows it.
You can bring it anytime, anywhere to any place like office, school, house, store, etc. and for sure you can save more from it.

LOADS!!!

are peoples Necessity
No EXPIRATION DATE
No MONTHLY QUOTAS
No PHYSICAL INVENTORIES
Non - TERRITORIAL
Why VMOBILE LOADXTREME?
1.
Cause all kinds of prepaid product that you can think, Now you can sell it like:
Prepaid Cellphone Load (Globe, Smart, Sun, TNT, Red)
Prepaid Internet Load (Blast, ISP Bonanza, etc.)
Prepaid Landline Load (Bayantel, Globelines, PLDT, etc.)
Prepaid Broadband Load (Smart Bro)
Online Games (Amped Games, Garena, Level Up Games, Mobius Online, etc.)
Prepaid Satellite/Cable TV (ABS-CBN TFC, Dream Satellite, Sky Cable)
Prepaid Tutorial/Review Cards (Carl Balita, Englishlink, Prime Logic, etc.)
Cakes and Flowers thru LBC
2.
No need for physical inventory cause VMobile has a system that helps you do automatic inventory online so this website list all your transactions
3.
Very Small Capital to start and Fast R.O.I.
4.
We are very much willing to assist you within our capacity in this loading business
5.
Can be a means to have your extra income without sacrificing your current job.
6.
We have our own Data Center-- this means that we are capable of making transactions faster and more efficient.
7.
With your Existing Sim, you can start right away for all your prepaid needs.
8.
Earn up to 12% discount on load if your a Retailer
9.
Earn up to 14% discount on load if you are Dealer
10.
And an opportunity that only VMOBILE can offer: AXS Card – no hassle on riding the MRT!!
UNIQUE FEATURES
1. Multi-Access
– If are registered as a retailer or dealer, you can sell more than 300 kinds of prepaid load like smart, talkntext, globe, tm, sun, red mobile etc.
2. Multi-User -
In one family registered as dealer or retailer, any member of the family can sell any account of vmobile product either nationwide or worldwide using cellphone or internet.
3. Not Sim Dependent -
You can use any cellphone or sim as long us have memorize your ID no. PIK and the commands how to load. Even though you did not bring your cellphone your business will still be on going.
ADVANTAGES
1. Comfortability
- you can load yourself
Anytime
and
Anywhere
, No need to go to the Store to buy a load.
2. Savings
- you can save
up to 12-14%
of cellphone load consumption and various products.
3. Security
- in case of loss of phone or SIM, your money in the load wallet is still safe in the LoadXtreme Sytem.
4. Accessibility
- you can use
OTHER
cellphone or SIM to access your LoadXtreme Account.
5. All Access Prepaid
- you can access Smart, TalkNTxt, Globe, Touch Mobile, Sun, Red Mobile, Internet Cards, Online Games, PLDT, Insurance, LBC Flowers and more! You can LOAD and SELL to ALL NETWORKS!
6. Internet Based
- you can Load, Reload and Transfer Load thru the loadxtreme website. Monitor all the IN and OUTS of your Load wallet.
7. Family Budget Friendly
-
share your Account and PIK
to your love ones so they can also use it thru their cellphone anytime and anywhere. You can also monitor your in and outs usage by simply log in the LoadXtreme website.
8. One Loadwallet
- that you can use for almost 300 e-load and prepaid products anytime, anywhere.
COMPARISON between VMobile LoadXtreme and Traditional Loading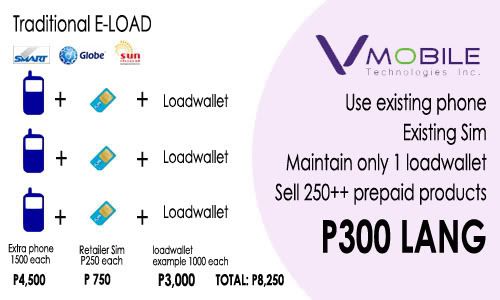 Traditional Loading: You need a minimum of 8,250 to become a RETAILER.
VMobile Loadxtreme: You just need 3,988, and you are already a DEALER!
Traditional Loading: You need 3 cellphones and 3 special SIM cards in order to sell Globe, Smart, and Sun Cellular load only.
VMobile Loadxtreme:
You only need 1 cellphone and 1 SIM card in order for you to sell 300+ prepaid load products, cakes, and flowers.
Traditional Loading
:
1 loadwallet per network.
VMobile Loadxtreme: 1 loadwallet for ALL!
BUSINESS OPTIONS:

• BE A RETAILER
- P300
- Discount of 8-12% on over 280 products
- Can generate income through R.A.P
Retailer – what is in the package?
• Retailer Card
• Quick Guide
• Vmobile-RAP Guide
• Price List
• Access to the system
• Personal Website
• R.A.P
• BE A DEALER (Fast Track Package)
- P3,988
- Discount of 8-14% on over 280 products
- Has 5 ways of generating income
WHAT'S INSIDE THE P3,988 FAST TRACK PACKAGE?

20 QUICK GUIDES
3 PRODUCT GUIDES
20 PRICE LISTS
20 R.A.P BROCHURES
2 TARPAULINS
1 MRT AXS TARP
3 SMART SIMPACKS free!

You can register and transact business through
• SMS/Text Messaging - (24/7)
• Internet Website - http://www.loadxtreme.ph
5 WAYS TO EARN FOR FAST TRACK PACKAGE
1. Direct Selling
SELL LOAD earn 10 – 12% of you total sales example
you sell P1,000 load / day
1,000 x 30days = 30,000 x 10% =
P3,600 / month
2. Sign up Retailers
Sell each activation cards
P250 each
you have 20 cards to sell
250 x 20 =
P5,000
3. Retailer's Override
Earn 1-2% of the total sales of your retailers
example
you have 20 retailers
each sells 1,000 per day
20×1000=20,000 x 30 days = 600,000 x 2% =
P12,000 / MONTH


Example Scenario:
- You Became a FAST TRACK Franchiser
- You only get 3 retailers and thats it, you didn't get any more retailers
- Your 3 retailers gets 3 sub retailers every month
- What will be your Income in 8 months?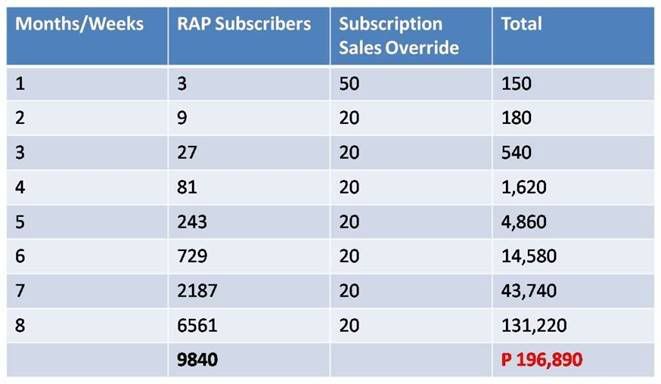 MONTHLY GROUP SALES REWARD
Earn 8 - 18% of 0.1% of the monthly total sales of your Sales Group.
Example: All of your Retailers are selling P2,000 worth of load per month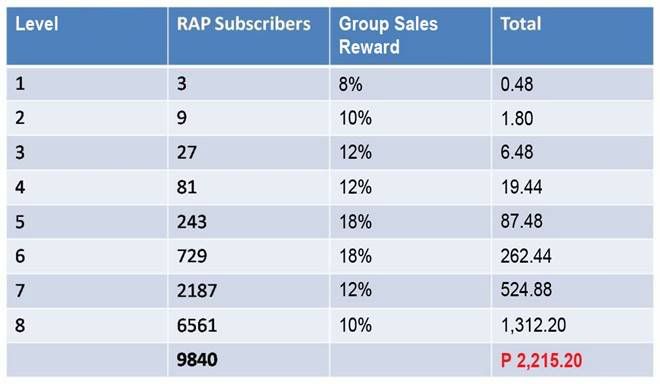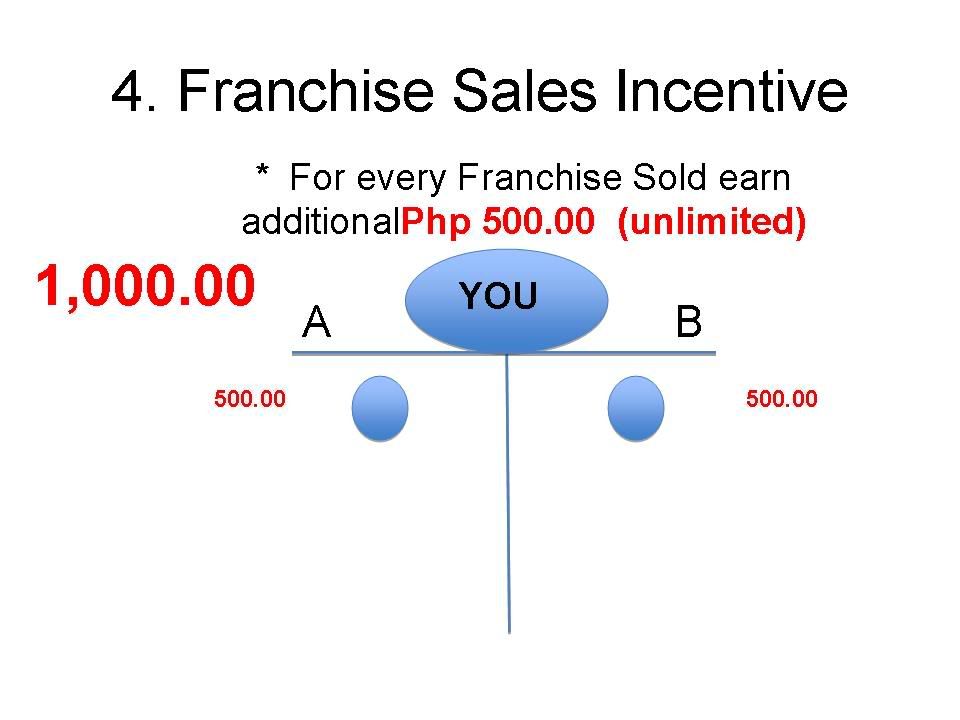 MASTER DEALERSHIP
ALSO AVAILABLE!
Become the master distributor of the Vmobile Franchise
of a particular area!
MASTER DEALERSHIP / DISTRIBUTOR ----- P500,000
> Be a Master Distributor of VMobile Franchise Package in a particular area!
> Establish your own Vmobile Product and Training Center
> Earn Discounts for the Vmobile Franchise Packages
Package Includes:
> 85 Fast Track Packages
(P3988 each)
> 3 Regular Dealership Packages
(P8,888 each)
> 600 Retailer Activation Cards
(P300 each)
> P100,000 Initial Load Wallet Credits
TOTAL PACKAGE VALUE: P645,644
Exclusive Benefits and Privileges
Distributors enjoy exclusive privileges from VMobile. Aside from being the primary channel for new products and services. Distributors can benefit from the following:
>
7% Discount on all DEALERSHIP PACKAGES
(for subsequent orders of dealership packages)
REGULAR DEALERSHIP > P8,888
Discounted Price > P8,265
DISTRIBUTOR PROFIT >
P623
FAST TRACK PACKAGE > P3,988
Discounted Price > P3,688
DISTRIBUTOR PROFIT >
P300
>
0.75% Discount
on all LoadWallet Credit purchase.
(Minimum Purchase P100,000)
>
0.25% Business Volume Override (BVO)
on the accredited Product Sales Volume of all dealer accounts tagged under the Distributor Account.
>
10 - 11%
Average discount on sales of prepaid products
>
1% Guaranteed Retail Override (GRO/FRO)
from retailers tagged under the DISTRIBUTOR ACCOUNT
LAST FEW TIPS TO MY POTENTIAL DEALERS:
Napakadaling maging dealer tulad ko. All you need is to have the guts to do it. CHOOSE a person that you think you can really count on.
I am here to help you. Maaasahan mo ako, saan ka man dako ng pilipinas o saan man sa mundo. Just give me a call or just text me, I'll be glad to assist you.
Lastly, decide quickly. Decide NOW. The company is still in its PIONEERING STAGE. Malaki pa ang opportunity. Nevertheless, if you won't act NOW, you'll probably be left behind. Daig ng MAAGAP ang masipag.
You've gone this far in reading this ads which shows that you are really interested. Thank you for your time!
Don't let this opprtunity just pass your life. Grab it while it's still hot! Grab it while it's still there!
WANT TO KNOW MORE?
Attend our Business Seminar at Robinsons Galleria

MARCH SCHEDULE OF SEMINARS
Monday 4:00pm; 5:30pm
Tuesday 6:00pm
Wednesday 4:00pm
Thursday 6:00pm
Friday 5:00pm; 8:00pm
Saturday 6:00pm

Just let me know that you are coming so that I could assist you there.
If you are interested to attend the Orientation and to reserve a seat please contact:
Arkin Sebastian Castro II
0926-6402229
8285164